Holiday Cards to Love & Send
Deliver joy with five new holiday card collections.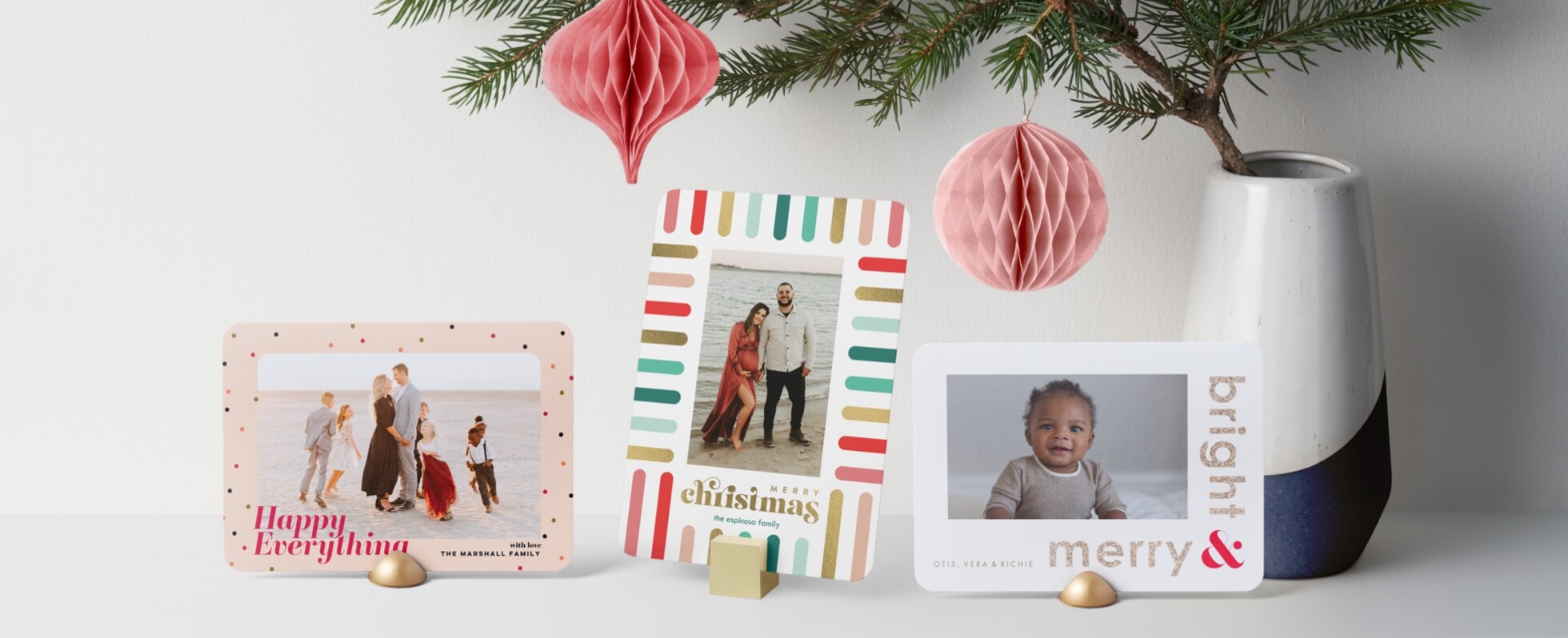 Let Your Holiday Wishes Shine
Find Your Festive Holiday Expression
Have Yourself a No-Stress Noel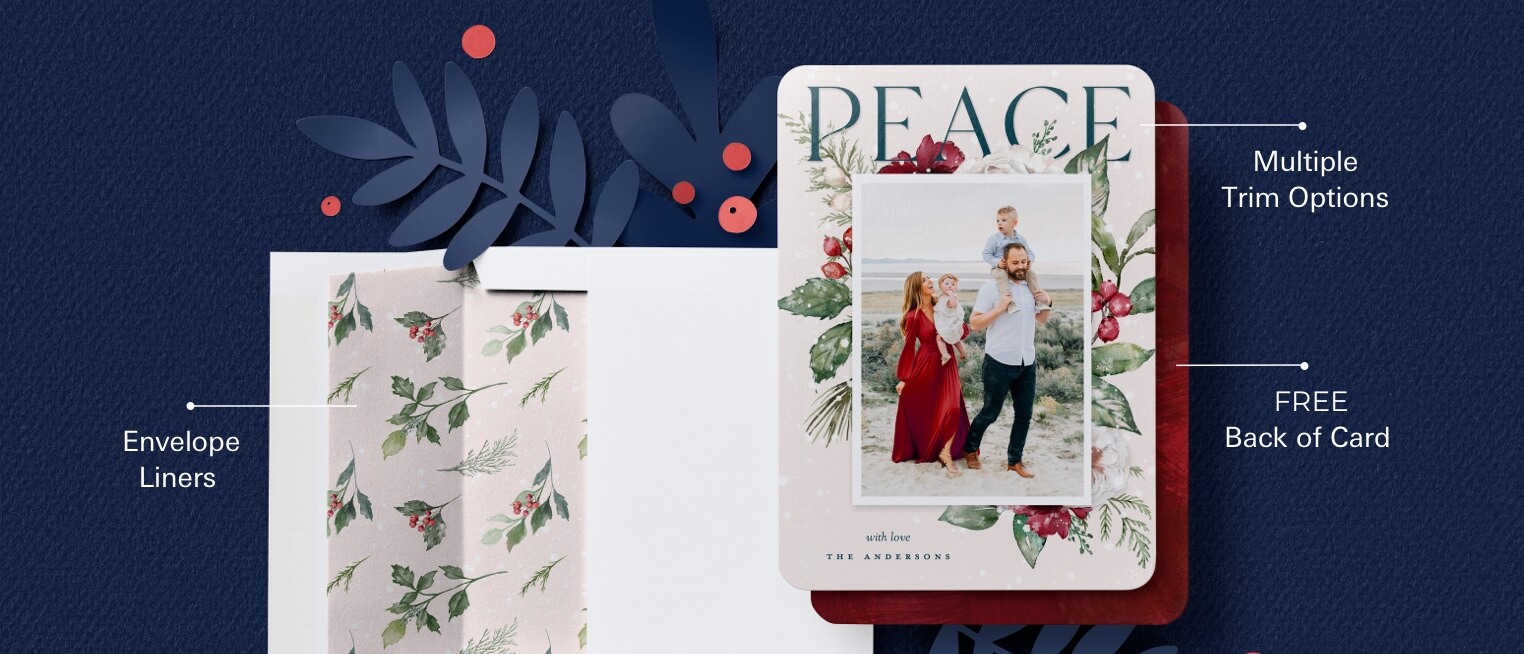 Coordinate Your Card with All the Trimmings
Elevate your merry masterpiece with our full suite solutions, featuring free back-of-card designs, matching custom envelopes and more.
LEARN MORE>
Holiday and Christmas Cards
Add some festivity to all of your correspondence throughout the holiday season when you create one-of-a-kind holiday and Christmas cards that are truly your own. Tiny Prints offers a wide selection of stylish stationery for all of your needs, from a luxurious collection of holiday cards and eye-catching holiday party invitations to festive holiday address labels and holiday gift tag stickers. There's no better way to send a little holiday spirit to loved ones than with personalized holiday cards and stationery. Our updated, 2022 collection features four modern styles: Merry Vibes, with an expressive twist and on classic Christmas cards; All Is Bright, with its fun, cheerful pastels; Noel Neutrals, incorporating blacks, tans, and whites for a natural sophistication; and Rustic Greenery, with its dark green palette and creative patterns. Taken together, they amount to holiday and Christmas cards in a decidedly modern style and an emphasis on minimalism and daring color choices. Your Christmas cards will never be the same.
The Best Holiday and Christmas Cards Online
In our celebrated online holiday store, we feature a wide array of elegant, premium Christmas and holiday cards. Whether you're looking for a simple, traditional, modern, or glamorous design or something in between, you'll find the very best in Christmas cards and New Year's cards at Tiny Prints. Browse through our stunning, newly-updated collection to find the style that best showcases the look and feel you want for your holiday greetings this year and then have fun customizing the design to make it truly your own. Check out our luxurious personalized foil holiday cards, foil-stamped Christmas cards, and glitter Christmas cards, and, as well, our holiday cards printed on luxe, double-thick cardstock for a keepsake-quality creation. For cards that unfold, providing a moment of mystery and intrigue before opening, see our gatefold and tri-fold Christmas card designs. Our luxury holiday cards offer something different to deliver holiday cheer with style and class.
Customize Your Holiday and Christmas Cards and Invitations
Tiny Prints has everything you need to turn your best and brightest memories from the year into beautifully printed holiday cards and invitations. Once you've chosen your favorite design from our inspired assortment, simply upload your favorite picture or pictures into the template. Our easy-to-use design assistant enables you to customize your font, colors, trim style, cardstock type, and other design elements and add personalized message to create unique cards that reflect your personality and style. Skip the boring, generic greetings this year and, instead, send out holiday cards, Christmas cards, and invitations that have unique greetings, custom messages, and personalized options galore. And be sure to include personalized holiday address labels and holiday gift tag stickers to embellish your envelopes and ensure that your cards and invitations delight even before their opened.